Hi Patsy,
This is your last chance to save $7,000+ on 60+ career and confidence-building tools and resources.
TODAY at 11.59pm ET (8:59PM Pacific), the Women's Confidence and Career Super Stack deal vanishes.
This is your last chance to get access to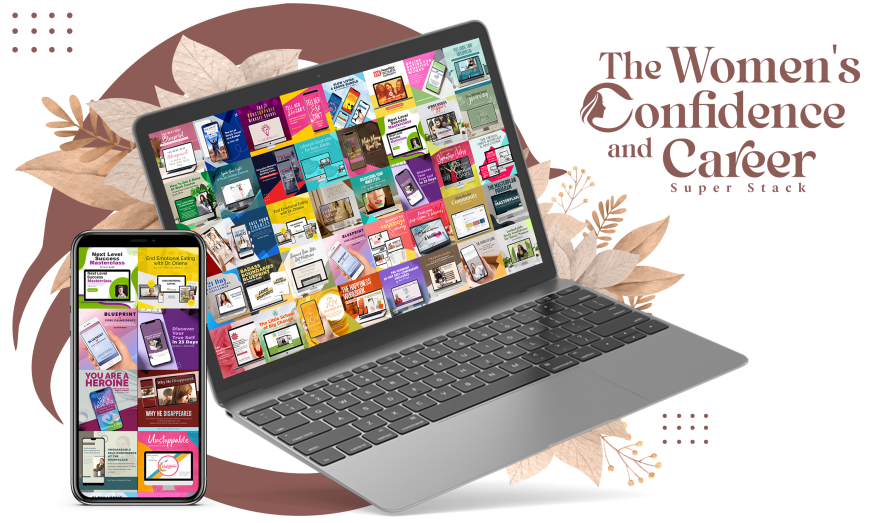 ✔ 22 Comprehensive eCourses covering everything from how to take back your power, say no to things you don't want to do (with zero guilt), build a confident mindset, plus strategies to easily conquer your goals, free yourself from the burden of people-pleasing, overcome anxiety and bad habits, and uproot the blocks that prevent you from experiencing healthy self-love or meeting the right person for you.
✔ 17 Chart-Topping eBooks fiilled with expert help to transform negative feelings about yourself, take control of your finances, overcome securities and fears at work and in your relationships, plus how to travel solo with confidence on a tiny budget.
✔ 3 Happiness-Generating Training Programs ready to open the door to a radical mindshift to guide you to find happiness, ignite your dreams, and show you how to get those salary increases and bonuses you deserve.
✔ 7 Advanced Masterclasses to show you how to clear bad energy to unleash a new, radiant you, release painful patterns and myths that keep you stuck, and naturally balance your hormones to renew your energy.
✔ Plus 2 more premium resources. See everything you'll get for an exclusively low price
Secure your bundle by 8:59 PM Pacific / 11:59 Eastern before it's gone
Blessings,
Patsy
P.S. Please note that I'm sharing The Women's Confidence and Career Super Stack as an affiliate, so when you use my link to buy, I will get a small percentage of the proceeds but at no extra cost to you.
The Women's Confidence and Career Super Stack comes with a 60 day, 100% satisfaction guarantee. I wouldn't want you to be stuck with anything you feel isn't right for you, so if you decide it's not for you during those 60 days, you'll get a full refund.